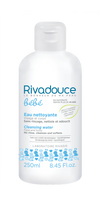 Rivadouce Bébé Cleansing Water (Eau Nettoyante) - 75ml/500ml/1000ml
Expiry (1000ml): 02 / 2023
Expiry (500ml): 09 / 2023
Expiry (250ml): 02 / 2022
Expiry (75ml): 09 / 2022
Rivadouce Bébé Cleansing Water (Eau Nettoyante) is a formula that gently cleanses baby's skin. 
Formulated without alcohol and soap, it is enriched with moisturizing vegetable glycerin. Ideal for the cleaning of sensitive areas like baby's face and bum. It leaves skin soft and delicately scented. Does not sting the eyes. 
Directions for use: Apply Eau Nettoyante with a clean cotton pad or cloth and gently wipe away sweat, dirt and residue. 
Hypoallergenic. Dermatologist and ophthalmologist tested. 
No Parabens. No Phenoxyethanol.
*Please note that the 500ml and 75ml bottle come without a pump. 
Ingredients: AQUA (WATER), GLYCERIN, POLYSORBATE 20, PERFUME (FRAGRANCE), SODIUM BENZOATE, ETHYLHEXYLGLYCERIN, SODIUM PHYTATE, CITRIC ACID, NELUMBO NUCIFERA FLOWER EXTRACT, TOCOPHEROL